29 February 2020 Launch of the CWC T20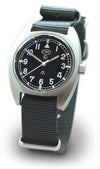 In 1980, the M.O.D. released a tender specification for the first quartz watch issued to all branches of the British forces. While the 70s tonneau shape case was specified, the early Swiss quartz movements couldn't fit this case and so the G10 "Fat Boy" was born.

Now, modern Swiss movements and manufacturing bring you the "Lost Boy", the watch that should have been made but never was... until now!
The Defence Standard for the "Watch, Wrist, Electronic, General Service" was dated the 29th of February 1980, a leap year day. Forty years to the day, it is making its debut. The T20 designation refers to the Tonneau case released 2020.
Sign up for our newsletter to be notified.
1 Response
Leave a comment
Comments will be approved before showing up.