1987 CWC SBS Reissue due to arrive early to mid June. Reserve your preferred serial number.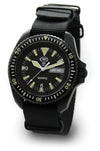 Introducing the 1987 reissue edition dive watch, the first Black CWC Divers watch manufactured for the Special Boat Service. Pieces are numbered, and available exclusively on the CWC website  and CWC store. 
Arguably one of the rarest and sought after SF Military Dive watches in history, possibly less than a handful of original examples remain. This is the SBS Divers watch that many customers have been searching for that honours the history of possibly the most elite special forces units in the world and which CWC are proud to have been selected to manufacture over three decades ago.  
Back in the late 80's CWC divers watches had proven themselves having been first issued in 1980 in automatic form which replaced the Milsub and three years later in quartz form. 
The RN Divers watches proved themselves to be worthy successors to the issued watches of the 60's and 70's and the SBS Diver was no exception, designed to meet the toughest demands of deep diving missions, underwater surveillance, mine clearance, battlefield and dive engineering, it is a toolwatch in the purest sense of the word that will perform in the most extreme conditions. 
In April 1987 the MOD (N) specification was signed by the officer commanding RM in Poole Dorset requesting CWC to produce the Black SBS Divers watch on behalf of the Royal Marines.
Leave a comment
Comments will be approved before showing up.