Watch, Pocket, G.S.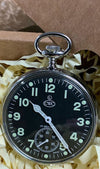 Pocket watches can be a great alternative to a conventional wrist watch, its a conversation piece that is incredibly easy to see and read in low light conditions. Used on board Royal Navy ships CWC pocket watches have a place in military history 
Click the item code below to see the item. 
CABOT WATCH COMPANY
WATCH, POCKET, G.S. 
Made in very limited quantities this military pocket watch is swiss made to MOD spec. These have been issued to various  branches of the military and Commonwealth forces over many years. See the accessories section for pocket watch pouch and chain. 
Official Royal Navy issue,  Commonwealth issue
Chromed brass case
Fully jewelled Unitas 6497-1 Swiss lever movement
Hand wound
Luminova luminous
Acrylic glass


Leave a comment
Comments will be approved before showing up.