May Blog update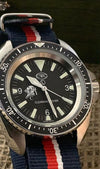 CWC are operating at near normal capacity with lots of things going on. 
We are operating with minimal staff, processing orders with minimal delays. Our Carriers are operating near normal capacity with some minor delays. 
New stock of CWC straps arrived May 5th. 
Regimental , Vintage Canvas, Phoenix. 
See the new Mellor72 and the write up in www.hodinkee.com by Jason Heaton. 
Special Projects are becoming very popular with many military projects in production. The Royal Australian Navy Clearance diver Special project has recently been delivered,  This was commissioned by the RAN divers using the Royal Navy quartz divers Mk1 as the base model with special dial and caseback engraved with each members details. We look forward to hearing from you with regards to any Special Projects you have in mind. sp@cwcwatch.com
Leave a comment
Comments will be approved before showing up.