New stock just arrived Vintage Bond 007 nato straps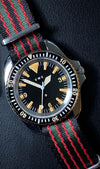 Click the pics to see the items. 
New stock of CWC vintage bond 007 straps 20mm back in stock, CWC straps are welded not stitched just as the CWC & Phoenix issue straps. Satin hardware. Watch shown is the full matte RN300-M-QM60-DD
Leave a comment
Comments will be approved before showing up.