CWC SPECIAL PROJECTS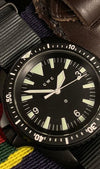 We receive requests for watches that are in our current range but in the configuration that a customer would like, such as change of dials, cases, bezels, hands, reversed (destro) etc. We welcome enquiries from individual & military units for small or large orders of watches to your specification such as dials, case backs, insignia for a particular diving course, special operations, ship, passing out etc. 
Special Projects are able to create a watch unique to your requirement within the confines of models and parts available. For larger quantities we can make to your requirement without constraint. . Contact sp@cwcwatch.com or call 02077900900

Leave a comment
Comments will be approved before showing up.